Signaling of IL‑4 and
IL‑13—two of the key
drivers of
type 2
inflammation — plays
an important role in
atopic dermatitis
The pathogenesis of atopic dermatitis involves a complex interplay between skin barrier dysfunction and type 2 inflammation, among other factors2,3
THE DISTINCT AND OVERLAPPING ROLES OF IL‑4 AND IL‑133,4,5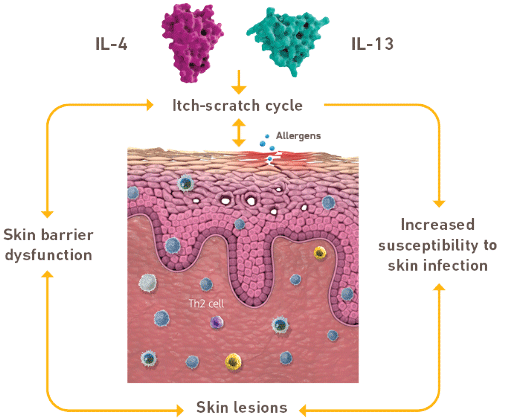 Dysregulated IL-4 and IL-13
signaling may exacerbate
epidermal barrier dysfunction,
which contributes to the
clinical
manifestations of
disease
THE UNIQUE ROLE OF IL‑4
IN TYPE 2 INFLAMMATION
IL-4 is an orchestrator of Th26,a
response, creating a positive feedback loop that leads to dysregulated secretion of IL-4, IL-13, and IL-31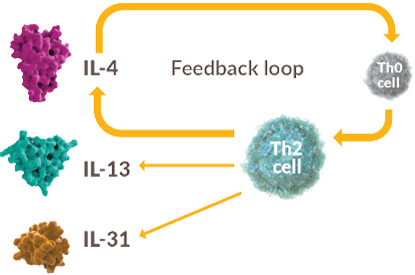 a Type 2 cytokines (eg, IL-4/IL-13)
may also be produced by other
immune cells, such as ILC2.4
Only DUPIXENT
specifically targets
IL‑4Rα, inhibiting IL‑4
and IL‑13 signaling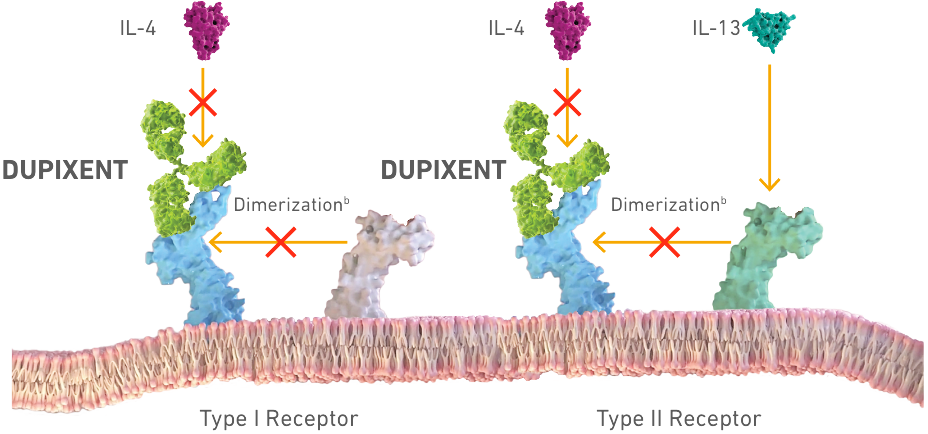 |
INHIBITION OF IL-4 AND IL-13
SIGNALING HAS A SUBSTANTIAL
IMPACT ON DISEASE
|
Helps reduce type 2
inflammation1,7
Helps RELIEVE
itch1,2,7
Helps break itch-
scratch cycle
Helps ACHIEVE
CLEARER SKIN1,7,8
Helps improve
skin barrier
function
Helps improve
skin lesions
The mechanism of dupilumab action
has not been definitively established.
bDimerization is when 2 protein subunits combine to form a larger complex. IL-4 and IL-13 signaling requires
dimerization of IL-4Rα with either the common gamma chain (for IL-4 signaling) or IL-13R (for IL-13 or IL-4 signaling).
DUPIXENT is not an immunosuppressant and avoids
broad immunosuppression1

It is unknown if DUPIXENT will influence the
immune response against helminth infections1

DUPIXENT requires no initial lab testing or ongoing lab
monitoring, according to the Prescribing Information1
DUPIXENT is not metabolized through the liver or
excreted through the kidneys1

No known drug-to-drug interactions1
Watch the video to see how DUPIXENT works.
View Transcript
Atopic dermatitis, or AD, is a systemic inflammatory skin disease characterized by dry, scaly, itchy skin and eczematous lesions. When uncontrolled, the signs and symptoms of moderate-to-severe disease can have potentially debilitating impacts on patients.
Like some other chronic inflammatory diseases, AD originates in part from dysregulation of the type 2 immune response. The type 2 immune response can be thought of as surveillance for tissue barrier sites like the skin and airways against parasites.
Dysregulation of this response results in systemic inflammation that contributes to AD.
While various AD phenotypes have been proposed, type 2 inflammation is a major and common pathophysiological factor, irrespective of patient characteristics like age or ethnicity.
And while patients with AD will present with a mix of lesional and nonlesional skin, even nonlesional skin has underlying inflammation due to chronic activation of a specific immune response.
The type 2 immune response involves the release of key cytokines from Th2, ILC2, Tc2, and a variety of other cell types.
Several signaling cytokines, such as IL-4, IL-13 and IL-31, contribute to both the development and perpetuation of type 2 inflammation and clinical disease features of AD.
Through both distinct and overlapping roles, IL-4 and IL-13 signaling, through the IL-4 receptor alpha, has shown to affect epidermal barrier dysfunction, increased susceptibility to skin infection, and chronic itch – factors that contribute to the development of eczematous skin lesions.
IL-4 and IL-13 signaling drives chronic type 2 inflammation in two interdependent ways:
First, IL-4 drives differentiation and expansion of naïve helper T cells into Th2 cells, which amplify the release of type 2 cytokines via a positive feedback mechanism.
Second, IL-4 and IL-13 increase type 2 cytokine production through the activation of multiple type 2 immune effector cells including Th2, further enhancing a positive feedback loop that contributes to the development of clinical disease features in AD.
DUPIXENT is a human monoclonal antibody and the first and only biologic to specifically target the IL-4 receptor alpha to inhibit IL-4 and IL-13 signaling.
DUPIXENT helps address underlying type 2 inflammation, resulting in decreased expression of type 2 inflammatory genes, decreased hyperplasia, and improved epithelial barrier.
INDICATION AND IMPORTANT SAFETY INFORMATION
CONTRAINDICATION: DUPIXENT is contraindicated in patients with known hypersensitivity to dupilumab or any of its excipients.
WARNINGS AND PRECAUTIONS
Hypersensitivity: Hypersensitivity reactions, including anaphylaxis, serum sickness or serum sickness-like reactions, angioedema, generalized urticaria, rash, erythema nodosum, and erythema multiforme have been reported. If a clinically significant hypersensitivity reaction occurs, institute appropriate therapy and discontinue DUPIXENT.
Conjunctivitis and Keratitis: Conjunctivitis and keratitis occurred more frequently in atopic dermatitis subjects who received DUPIXENT compared to those who received placebo. Conjunctivitis was the most frequently reported eye disorder. Most subjects with conjunctivitis or keratitis recovered or were recovering during the treatment period. Conjunctivitis and keratitis have been reported with DUPIXENT in postmarketing settings, predominantly in atopic dermatitis patients. Some patients reported visual disturbances (e.g. blurred vision) associated with conjunctivitis or keratitis. Advise patients to report new onset or worsening eye symptoms to their healthcare provider. Consider ophthalmological examination for patients who develop conjunctivitis that does not resolve following standard treatment or signs and symptoms suggestive of keratitis, as appropriate.
Risk Associated with Abrupt Reduction of Corticosteroid Dosage: Do not discontinue systemic, topical, or inhaled corticosteroids abruptly upon initiation of DUPIXENT. Reductions in corticosteroid dose, if appropriate, should be gradual and performed under the direct supervision of a healthcare provider. Reduction in corticosteroid dose may be associated with systemic withdrawal symptoms and/or unmask conditions previously suppressed by systemic corticosteroid therapy.
Atopic Dermatitis Patients with Co-morbid Asthma: Advise patients not to adjust or stop their asthma treatments without consultation with their physicians.
Arthralgia: Arthralgia has been reported with the use of DUPIXENT with some patients reporting gait disturbances or decreased mobility associated with joint symptoms; some cases resulted in hospitalization. Advise patients to report new onset or worsening joint symptoms. If symptoms persist or worsen, consider rheumatological evaluation and/or discontinuation of DUPIXENT.
Parasitic (Helminth) Infections: It is unknown if DUPIXENT will influence the immune response against helminth infections. Treat patients with pre-existing helminth infections before initiating therapy with DUPIXENT. If patients become infected while receiving treatment with DUPIXENT and do not respond to anti-helminth treatment, discontinue treatment with DUPIXENT until the infection resolves.
Vaccinations: Consider completing all age-appropriate vaccinations as recommended by current immunization guidelines prior to initiating DUPIXENT. Avoid use of live vaccines in patients treated with DUPIXENT.
ADVERSE REACTIONS: The most common adverse reactions (incidence ≥1% at Week 16) in adult patients with atopic dermatitis are injection site reactions, conjunctivitis, blepharitis, oral herpes, keratitis, eye pruritus, other herpes simplex virus infection, dry eye, and eosinophilia. The safety profile in pediatric patients through Week 16 was similar to that of adults with atopic dermatitis. In an open-label extension study, the long-term safety profile of DUPIXENT ± TCS in pediatric patients observed through Week 52 was consistent with that seen in adults with atopic dermatitis, with hand-foot-and-mouth disease and skin papilloma (incidence ≥2%) reported in patients 6 months to 5 years of age. These cases did not lead to study drug discontinuation.
USE IN SPECIFIC POPULATIONS
Pregnancy: A pregnancy exposure registry monitors pregnancy outcomes in women exposed to DUPIXENT during pregnancy. To enroll or obtain information call 1-877-311-8972 or go to https://mothertobaby.org/ongoing-study/dupixent/. Available data from case reports and case series with DUPIXENT use in pregnant women have not identified a drug-associated risk of major birth defects, miscarriage or adverse maternal or fetal outcomes. Human IgG antibodies are known to cross the placental barrier; therefore, DUPIXENT may be transmitted from the mother to the developing fetus.
Lactation: There are no data on the presence of DUPIXENT in human milk, the effects on the breastfed infant, or the effects on milk production. Maternal IgG is known to be present in human milk. The developmental and health benefits of breastfeeding should be considered along with the mother's clinical need for DUPIXENT and any potential adverse effects on the breastfed child from DUPIXENT or from the underlying maternal condition.
Please see accompanying full Prescribing Information.
Indication
DUPIXENT is indicated for the treatment of adult and pediatric patients aged 6 months and older with moderate-to-severe atopic dermatitis whose disease is not adequately controlled with topical prescription therapies or when those therapies are not advisable. DUPIXENT can be used with or without topical corticosteroids.