Up to 81% reduction in severe exacerbations when added to SOC1,a
Baseline Blood EOS ≥300 cells/μL - DRI12544 (Secondary Endpoint)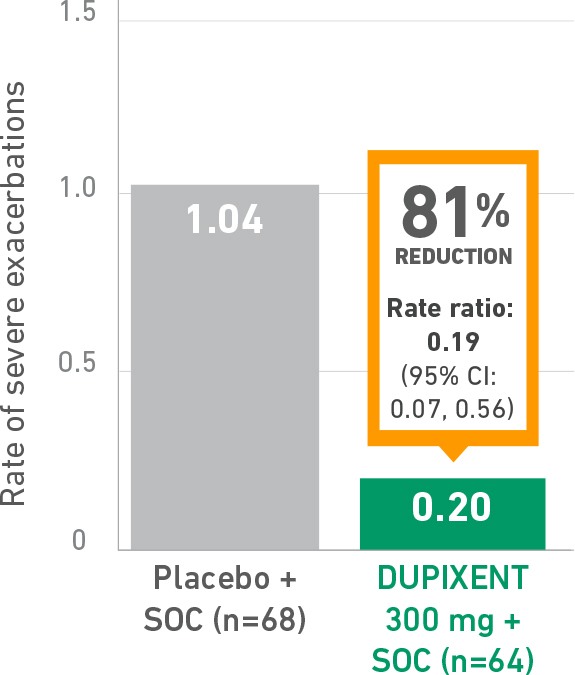 71% REDUCTION IN SEVERE EXACERBATIONS THROUGH WEEK 24 in patients with baseline blood eosinophil counts ≥300 cells/µL with
DUPIXENT 200 mg + SOC (n=65) vs placebo + SOC (n=68) (0.30 vs 1.04; rate ratio: 0.29 [95% CI: 0.11, 0.76]) (DRI12544, secondary endpoint)1
46% REDUCTION IN SEVERE EXACERBATIONS AT WEEK 52 in patients with no biomarker requirement with DUPIXENT 300 mg + SOC
(n=633) vs placebo + SOC (n=321) (rate ratio: 0.54 [95% CI: 0.43, 0.68]) (QUEST, primary endpoint)1
a Severe exacerbations were defined as deterioration of asthma requiring the use of systemic corticosteroids for at least 3 days or hospitalization or ED visit
due to asthma that required systemic corticosteroids.1
Up to 90% reduction in severe exacerbations when added to SOC
Patients Rolled Into TRAVERSE OLE From QUEST (n=364)3
The analyses of these data are not multiplicity controlled. Results are descriptive only.
89

%
OF PATIENTS FROM QUEST EXPERIENCED ZERO EXACERBATIONSd IN YEAR 3
(Weeks 48-96) when treated with DUPIXENT 200 mg/300 mg Q2W + SOC (n=816) for 52 weeks in QUEST and continued
with DUPIXENT 300 mg Q2W + SOC in the OLE period (other endpoint)4
79.5% of patients from DRI12544 (n=396) experienced zero exacerbations during Weeks 48-963
74

%
OF PATIENTS FROM DRI12544 AND QUEST EXPERIENCED ZERO EXACERBATIONS OVER ~3 YEARS OF DUPIXENT4
97

%
OF PATIENTS FROM DRI12544 AND QUEST DID NOT HAVE AN EXACERBATION REQUIRING HOSPITALIZATION OR ED VISIT
when treated with DUPIXENT 300 mg Q2W + SOC (n=2062) during the second and third years in the OLE period4,e,f
There are limitations associated with open-label study design, including lack of comparator arm, decreasing sample size, and potential continued involvement of responders and attrition of nonresponders.
dSevere exacerbations were defined as deterioration of asthma requiring the use of systemic corticosteroids for at least 3 days or hospitalization or ED visit due to asthma that required systemic corticosteroids.1
eAnalysis includes DRI12544 and QUEST patients enrolled in TRAVERSE.3
fOf the 542 patients who experienced at least 1 severe asthma exacerbation, 66 (3.2% of the overall study population) had an exacerbation that required hospitalization or ED visit during the TRAVERSE study period (unadjusted annualized event rate of 0.027).3
Results are descriptive.
OLE, open-label extension; Q2W, once every 2 weeks.
VIEW ADDITIONAL LONG-TERM
EFFICACY AND SAFETY DATA
QUEST
FeNO ≥25 ppbb,c
61% REDUCTION IN SEVERE EXACERBATIONS
AT WEEK 52
with DUPIXENT 300 mg + SOC (n=310)
vs placebo + SOC (n=172) (rate ratio: 0.39 [95% CI: 0.28, 0.54]) (prespecified subgroup analysis)1
65% reduction in severe exacerbations
at Week 52 with DUPIXENT 200 mg +
SOC (n=299) vs placebo + SOC (n=162)
(rate ratio: 0.35 [95% CI: 0.25, 0.50]) (prespecified subgroup analysis)1
EOS ≥500 cells/μL
71% REDUCTION IN SEVERE EXACERBATIONS
WEEK 52 AT
with DUPIXENT 300 mg + SOC
(n=141) vs placebo + SOC (n=74) (rate
ratio: 0.29 [95% CI: 0.18, 0.45])
(secondary endpoint)1
74% reduction in severe exacerbations
at Week 52 with DUPIXENT 200 mg +
SOC (n=145) vs placebo +
SOC (n=76) (rate ratio: 0.26 [95% CI:
0.16, 0.40])1
IgE ≥30 IU/mL and
EOS ≥300 cells/μLb
62% REDUCTION IN SEVERE EXACERBATIONS
WEEK 52 AT
with DUPIXENT 300 mg + SOC (n=153)
vs placebo + SOC (n=80) (0.44 [95% CI: 0.32, 0.60] vs 1.15 [95% CI: 0.84, 1.59]; rate ratio: 0.38) (post hoc analysis)2
57% reduction in severe exacerbations
at Week 52 with DUPIXENT 200 mg +
SOC (n=148) vs placebo + SOC (n=89)
(0.39 [95% CI: 0.28, 0.54] vs 0.90 [95% CI:
0.64, 1.25]; rate ratio: 0.43) (post hoc analysis)2